GIOVEDI 19 GIUGNO

ore 20.45

"CONCERTO DI MUSICA INDIANA"
con
VARANASI TRIO
(10 euro)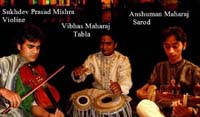 Anshuman Maharaj - Sarod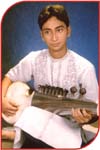 Figlio di Pt. Prakash Maharaj vive a Varanasi.
Ha studiato sarod con late Shri Rajesh Chandra Moitra e Shri Narendra Nath Dhar.
Fin dall'età di 15 anni ha suonato in tutta l'India: Sangeet natak Academy (Lucknow), Siti Mahatsov 2003-2004 (Varanasi), Sri Sai Mahotsav (Bitul M.P.), Rajutsav 2006 (Chhatisgarh), babu Rao Gurav Sangeet Samaroh Aurangabad (Maharastra), Doordardhan (Varanasi), Yuvavani Artist (All India Radio - Varanasi), DRM Office (Lucknow), Birthday Festival of Sai Baba (Chitrakoot), Maha Mrityujai Sangeet Samaroh (varanasi), Pt. Kahthe Maharaj Birthday Sangeet Samaroh (Varanasi), Pratik Sansthan (Varanasi), Fine Arts Society (Varanasi) e altri numerosi concerti in India.


Sukhdev Mishra - violino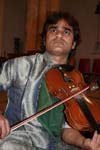 Sukhdev Mishra is a renowned violin player from the city of Varanasi. Raised in the purest tradition of Banaras Gharana (Varanasi style) in a very old musical family, Sukhdev learned music through the guidance of his father the late Pandit Narayan Das Mishra, a very famous sarangi player of Varanasi. He played on stage since the age of 6. He is the disciple Sangeet Prabhakar, teacher at the Banaras Hindu University, who taught him singing too. Sukhdev Mishra had many rewards, recorded for the main radio stations of India. He played concerts in London, Berlin, Wien, Brussels, and in France in Toulouse and Cahors. ..


Vibhas Maharaj - tabla